Septic Maintenance Program
Extend the Life of your Septic System, the Second Most Expensive Asset of your Home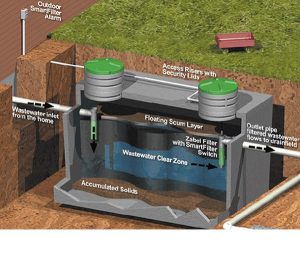 The NJSMG Septic Maintenance Program
Goals of the Septic Maintenance Program:
Install effluent filter in the septic tank to prevent sludge particles from leaving the tank, depositing in the field, causing contamination and eventual failure.
Provide any needed tank modifications to properly install the new septic tank effluent filter, making it accessible at grade.
Upgrade any buried septic or pump tank lids by bringing them to grade with risers and locking lids for future service visits.
Provide annual checks to monitor system components and clean effluent filter.
Advise occupants of any misuse or abuse of the system.
All septic systems installed after April 2, 2012 are required to have a 6" effluent filter. These filters require routine maintenance.
Semi-Annual Visits for Conventional Septic Systems include:
Gravity System - A 10-Point Septic Tank Check; data is recorded on the tank lid(s), riser(s), liquid level, thickness of scum and sludge layer, baffle conditions, tank leaks, cracks and any sewage runback from the disposal field (once a year).
Pump System - A 10-Point Septic Tank Check (see above) and an 8-Point Pump Tank Check (if present); data is recorded on the lid, tank and inlet baffle conditions, float and alarm operation, electrical connections and sewage buildup (once a year). Includes one (1) high water alarm troubleshoot per year.
Septic tank effluent filter will be cleaned (twice a year).
BioOne® Additive (twice a year) into tank during service. Also includes one 64oz. bottle for monthly maintenance in the home.
To be part of our Septic Maintenance Program you are required to have:
AN EFFLUENT FILTER installed on the outlet baffle in the septic tank.
ALL ACCESS PORTS MUST BE AT GRADE (not buried), using risers and locking lids, for accessibility during annual service visits.
LANDSCAPE PACKAGE. (optional). All extended PVC ports in the lawn are cut to grade, caps and tank lids are painted green to camouflage into the landscape.
Set Up Cost
The set-up cost to install a new septic tank effluent filter or to bring all buried access lids to grade will depend on your system's individual configuration. These upgrade services are a requirement to enroll in our Septic Maintenance Program and are paid in full at time of Septic Maintenance Program enrollment. Set pp charges are discounted 1⁄2 price if service is performed at time of a Neighborhood Discount** visit.
Note: These minimal, one-time SET UP expenses far outweigh the possible five figure cost to replace a system that has an early demise as explained in the opening paragraph above.
* If septic tank does not have a lid directly over the outlet baffle, a poly riser access port will have to be installed to reach the outlet baffle and new filter.
** We schedule all services within the vicinity at one time at a considerable savings vs. you selecting a specific date.
Septic Maintenance Program customers also get preferential scheduling for emergency calls, as well as discounted repairs.
If you do not know the type, location or whether your tank can accommodate an effluent filter,
we will be happy to come and gather that information. Please complete the form below for an appointment.
Maintenance Program Site Survey
Our pumpout services are limited to the following towns: Annandale, Belle Mead, Branchburg, Cranbury, Flagtown, Flemington, Franklin Park, Frenchtown, Hillsborough, Hopewell, Lambertville, Lawrenceville, Millstone, Neshanic Station, Pennington, Plainsboro, Princeton, Princeton Junction, Ringoes, Skillman, Somerset, Stockton, Titusville, West Windsor, Whitehouse Station