East Amwell Township
East Amwell is a Township in Hunterdon County, New Jersey. There are 2,225 properties within this township, and 99.65% are living with a Septic System while the remaining 0.35% is on Sewer. New Jersey Septic Management Group is available to assist realtors, the health department, and all residences by providing education about septic systems in East Amwell. Through zoom seminars and workshops, our team of experts has been providing valuable information and services to the residents of East Amwell. As a full-service septic company, we are qualified to assist in a variety of different septic services.
East Amwell Township Demographics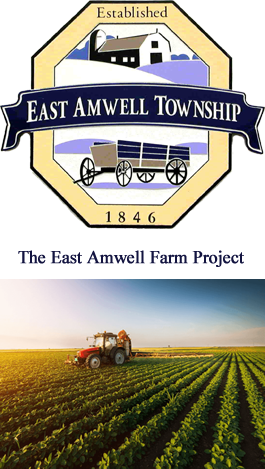 East Amwell Farm Project.
For more than 20 years, East Amwell has been known for its unprecedented efforts and unwavering dedication to preserving farms. Now is a great time to build on the achievements of the past, take our commitment to the next level and help the next generation of farmers succeed. By making farming profitable, we can ensure that East Amwell will remain a farm community long into the future. With this goal, the Township has launched a new project to identify ways to make farming economically sustainable. It's a multi-faceted problem that needs a multi-faceted solution.
We began by developing the most complete farm inventory the Township has ever had. We are currently conducting outreach, hoping to speak with anyone who has interest in this endeavor – farmers, farm owners, farm neighbors, farm lovers. Everyone's opinion is valuable to us. As we learn more about the current state of local farming, its history as well as our farmers' future aspirations, we're developing new ideas for new initiatives, like an interactive, web-based map of local farm stands and a have/need directory for people who have farm-related services to offer or who need services for their farms.
We're also starting to envision a bigger picture of what a sustainable farming community might look like. It now seems clear that farmers need easier and better access to services and their markets, so there may be value in coordinating the Town's zoning to promote farm-related uses within the community; that, in turn, would support local farms. The work that we're doing will help define the character and quality of life for East Amwell. We invite everyone to express your thoughts, share your ideas, tell us about your concerns, problems or hopes for the future. Farmer or landowner, resident or businessperson, everyone's opinion will help make this a better and more successful project.
If you'd like to participate, or if you simply want more information about the project, please contact the principle project coordinator, Tam Lee at eafarms156@gmail.com or 609-333-0678. Thank you!
Here are 10 more things you can do to protect the Environment:
Take your own reusable canvas bags to the store.
Lower your thermostat one degree (or more) in winter.
Take shorter showers.
Compost your organic waste.
Drive your car less: walk, bike, carpool, use mass transit.
Keep your car tires properly inflated.
Eat locally produced food. Eat less meat.
Shop right in town, instead of traveling a long way to the mall.
Turn off lights in unoccupied rooms.
Drink tap water instead of bottled water.
Clark Creek Elementary School
East Amwell Township Elementary School
Hunterdon Central High School
East Amwell Resource Staff
Mayor -  Rick Wolfe
Health Officer - Karen DeMarco
Board of Health Chairperson - Tracy Carluccio
Board of Health Secretary - Joe Petrone